Aamar 106.2 FM Kolkata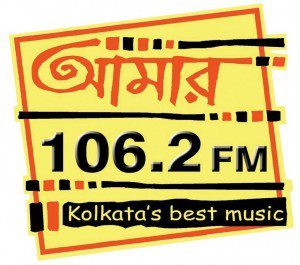 Live streaming of Aamar 106.2 FM
Aamar 106.2 FM is the kolkata best radion station. Also its the most popular bangla radio station in kolkata. One and only bengali radio station whose on-air presentation language is bangla.
The main slogan or describe "The Radio Station Built for Kolkata by Kolkatans"
Aamar 106.2 FM has a talented group of RJ's who broadcast the program 24/7 as host. Basically its a 24/7 musical radio station but also its broadcast many variety type of program such as educational, cultural, kids, festival etc. Its play the old and modern music from 1970 to today. this radio station has the largest listener amount all over the kolkata its become popular station of them. They have some top quality RJ they are very popular. This radio station always try to maintain their program quality also their RJ's are concern about the program.
Its always try to bring unique type of program to its listener. Its broadcast in Both FM and online. In FM is broadcast in 106.2 MHz frequency and broadcast in online from onlinebanglaradio.com. [link-ads]
For any query or contact you can fill the form in the right side. Your query will received Aamar 106.2 FM.
Please check Aamar FM Wikipedia Page for more details.
Please wait until the story loading..(20/30 Sec..) After that it will play automatically
আপনার ফেসবুক একাউন্ট ব্যবহার করে মতামত প্রদান করতে পারেনঃ
Radio Listeners are come here with this Search Keys
Aamar 106.2 FM live streaming, aamar 106.2 fm radio, bangla fm amar fm 106.2 fm, indian bangla radio aamar fm, kolkata bangla radio, kolkata radio, kolkatar gaan kolkatar pran, listen online aamar 106.2 fm, online fm indian bangla